Our Changing Menu
The authors of Our Changing Menu: Climate Change and the Foods We Love and Need use a typical menu—from appetizers to desserts—to explain how the climate is challenging people in the supply chain who help bring food to your grocery store. Illustrated with original pen-and-ink drawings, Our Changing Menu is beautifully rendered and also tells a science-based, factual story. Information is based on more than 700 sources, including peer-reviewed journal articles and government reports. Nearly 60 reviewers helped to insure that the information is accurate and presented clearly.
The book features brief interviews with farmers, ranchers, fishers, educators, and company managers. Once you hear their stories and learn the basics of our changing climate, you'll have many more reasons to help tackle this challenge.
Take a look: we start with before-dinner drinks and salads, move on to main courses and sides, and end with desserts and coffee. Along the way you'll learn about the causes and impacts of climate change, how it's affecting our food, and who's working to keep the menu stocked.

Meet the Authors and Illustrator
A scientist, science writer, and chef-turned-educator teamed up to write a book that's both a celebration of the foods we love and a wakeup call.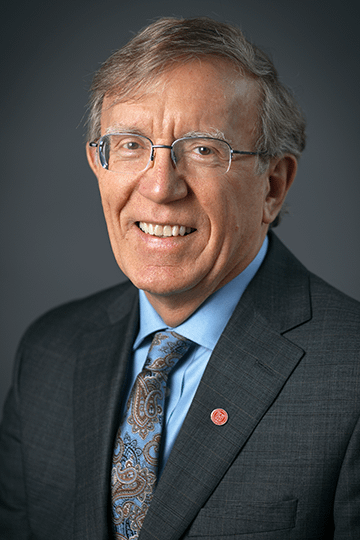 Michael P. Hoffmann dedicates all of his time to the grand challenge of climate change and helps people understand and appreciate what is happening through food. He most recently served as executive director of the Cornell Institute for Climate Smart Solutions, formed to raise awareness of climate change and help farmers adapt. Previously he directed the Cornell University Agricultural Experiment Station and the New York State Integrated Pest Management Program and served as associate dean of the College of Agriculture and Life Sciences and associate director of Cornell Cooperative Extension. He is professor emeritus in Cornell's Department of Entomology and holds a master's degree from the University of Arizona and a doctorate from the University of California, Davis.
Carrie Koplinka-Loehr has 25 years of experience communicating about agricultural issues and how they intersect with the environment. She directed the Northeastern Integrated Pest Management Center at Cornell University for a decade and the communications team for the NYS IPM Program in Geneva, NY. As a freelancer, she writes for YES! Magazine, Sierra magazine, and 'SCOPES magazine. Carrie has an M.S. in Science Education from Cornell University and is a member of the Society of Environmental Journalists and the National Association of Science Writers.
Danielle L. Eiseman, a visiting lecturer in Cornell University's Department of Communication, has a background in public engagement, social media campaigns, and pro-environmental behavior change. She has worked on climate change policy at Cornell and in Scotland and holds a Ph.D. in consumer psychology from Heriot Watt University in Edinburgh plus two masters degrees: one in carbon management (University of Edinburgh), the other in marketing and economics (DePaul University). Prior to her work in marketing and media, Danielle worked as a fine-dining chef at 5-star resorts and restaurants in Phoenix and Chicago.
Lindsey Potoff, who studies art at Cornell University, created all of the illustrations in Our Changing Menu. Her list of credits includes animations and story art for a video game called Fallen Flame; illustrations for Kitsch Magazine; and artwork for the book From Rates to Algebra by Kenneth Chelst, Thomas Edwards, Marianne Srock, and Debby Ferry.
Advance praise for Our Changing Menu
"It's a truism within the publishing industry that books about climate change don't sell, but Our Changing Menu might well be an exception. Everybody cares about food, and the flavor, cost and availability of food is going to shift, and keep shifting, as climate change intensifies. As this fact becomes evident to more and more people, they will want help adapting to the new normal. Written in a brisk, friendly, scientifically authoritative voice, Our Changing Menu could be just the roadmap they need."
"People are notoriously bad at actioning against threats in the future, and climate change is case study number one of this phenomenon. In the US, we have long been stuck in a debate about whether climate change is real. Sidestepping those land mines, Professor Hoffmann and his team have instead focused on the deep challenges and changes that we are facing today. Through the topic of food, they show how what we eat today will NOT be the same tomorrow. Whether you're a food professional, government planner, business decision maker, concerned global citizen, or just a lover of food (and who isn't!), this is an exploration of one of the world's greatest threats. It taps into the age old adage that a way to a person's heart is through their stomach, and it could come at no more important a time than now."
"The foundation for adequate and certain volume of food products is the growing conditions for food crops. Climate change will dislocate traditional crop growing areas of the world. In addition, the advancement of new pest challenges and weed infestation will intensify. We must realize our food production capability is under serious and maybe uncontrollable pressure from climate change.  Our Changing Menu is the wake-up call all society needs to hear. Complacency will not serve us well. We need every citizen aware, understanding, and engaged in the changes necessary to meet the challenge of adapting our food and agricultural systems to climate change."
"To many Americans, climate change seems a distant future threat; more political perhaps than real. An esoteric what-might-be. Yet, the scientific reality is this: threats a changing climate presents to our lives are immediate and real. And chief among these is the issue of food security—the ability to put sufficient and nutritious food on the table. The nature of these risks is diverse: everything from potential shortages of basic cereals to the taste of your favorite teas and wines. A changing climate affects the spread of new diseases and insects, the ability of the Mississippi to transport grain, the nutritional quality of your pasta; the cost of your cup of morning joe, and much, much more. The nature of these shifts, the consequences for humanity, are illustrated in clear, understandable language that serves as a timely clarion call for anyone who cares about their daily bread."
Twitter feed is not available at the moment.